Hormone Therapy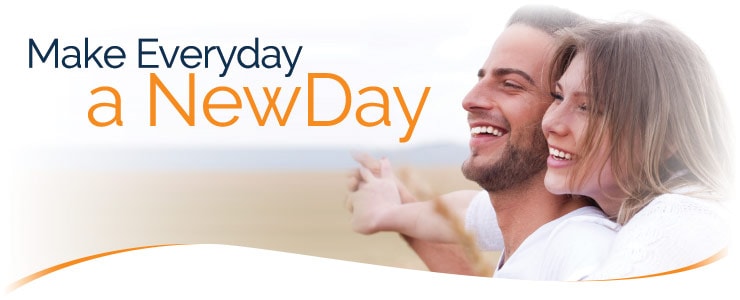 New Day Vitality's customized hormone therapy program includes a physical exam and medical review of your history, hormone levels and symptoms.
You will be monitored throughout the year to make sure your hormone levels are properly balanced.
A Patient Advocate will follow you through your journey with New Day Vitality to ensure you feel great! Our Bio-Identical Hormone Therapy (BHRT) patients find they have:
Revitalized life and relationships
Improved sleep quality
Decreased hot flashes/night sweats
Increased muscle tone
Decreased depression, anxiety and mood swings
Increased energy
Improved sex drive/performance

Many patients come to us frustrated that they cannot find answers. We can change that! As women age, hormone levels are depleted and are directly impacted by childbirth and menopause. Symptoms of hormone deficiencies may include:
Hot Flashes and Night Sweats
Mood Swings
Weight Gain
Anxiety and Depression
Migraines
Osteoporosis
Loss of Muscle Tone
Joint Aches & Pains
Vaginal Dryness
Low Sex Drive
Decreased Memory and Poor Focus
Hormone therapy will restore your depleted hormone levels, which can help you regain your ZEST for life and revitalize your most valued relationships.
NewDay Vitality utilizes bio-identical pellet therapy, which makes us different from other hormone replacement centers. Pellet therapy has been proven to be the most effective and consistent hormone delivery system. A comprehensive history and physical and blood panel enables our medical practitioners to provide superior care and results to each of our patients.
Studies show the pellet hormone delivery system is:
Precise
Personal
Effective & Reliable
Affordable
Safe

Even men are affected by changing levels in their hormones. Have you experienced a lack of stamina, poor memory, anxiety/depression, low sex drive/ED or reduced muscle tone? Do you suddenly feel older?
Men experience a gradual decline of their testosterone beginning in their 30's. Andropause, also known as male menopause, is a result of low testosterone levels. Testosterone helps maintain a man's bone density and fat distribution, muscle tone and mass, red blood cell production and sex drive.